"Every Batch Made from Scratch"
Hand-Crafted Breads
Sliced upon request.
Grau Brot

A German Rye, dense texture with strong flavor (no caraway seeds) $4.75
Bauern Brot

Farmer's Rustic Rye, slightly sweet (no caraway seeds) $4.75
Sourdough

Traditional Style (available Tuesday & Saturday only) $3.75
Cheddar Chesse Bread

Cheddar cheese baked inside and on top $4.25
Sheepherders

French loaf with a hard crust and soft center $4.40
Sechskorn

Six Grain with a dense texture, hard crust and nutty flavor $4.75
100% Whole Wheat

Light, airy loaf with a touch of honey $2.40
Country White

Best white bread you'll ever have! (Friday, Saturday & Sunday only) $2.40
Sun Dried Tomato

Sun dried tomatoes and Italian spices $4.25
Pizza Bread

Our own marinara sauce, monterey jack and pepperoni $6.75
French Baguette

Traditional long, narrow loaf with a crispy crust and soft center $2.25
Basil & Barley Garden Bread

Basil, barley, black pepper, celery & onion $4.75
Harvest Loaf

Carrots, raisins, walnuts and parsley in our six grain bread $4.25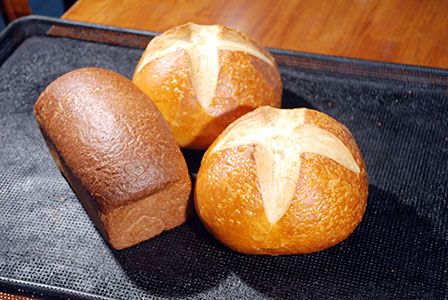 Bakery Rolls
Brötchen

Traditional German hard crust breakfast roll 55¢
Honey Wheat

Just like our bread - delicious! 55¢
Cheddar Cheese

Soft white roll with cheese on top and inside 55¢
Parkerhouse

White soft roll folded and brushed with butter 55¢
Butterflake

Soft, flaky butter, croissant-like dough baked in a muffin pan (served with our soups) 55¢
Sweet Treats
Nut Rolls ~ Some folks call 'em Sticky Buns $2.75
Bierocks ~ Ground Beef and Cabbage in a Baked Sandwich $3.10
Water Bagels ~ Plain, Sesame, Cinnamon Raisin, Cheedar Cheese, Poppy, Onion, Jalapeño $1.00–$1.25
(Lox & cream cheese is available on any bagel)
German Pretzels ~ Traditional favorite! Twists or Sticks $2.25
Zucchini Bread ~ $6.55
Strudel ~ Apple – Nord Rhein Westfalian Style $2.75
Cold Case Delights!
Eclairs $3.10
Brownies $2.75
Cream Puffs $3.10
Carrot Cake $6.50
German Chocolate Cake $6.50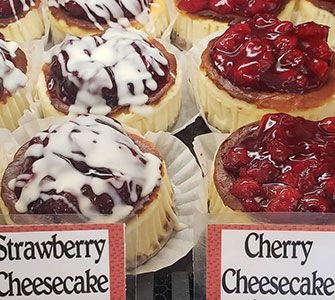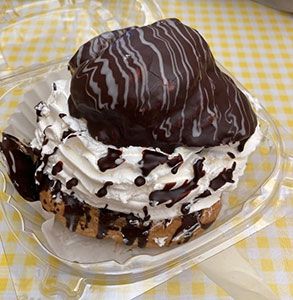 Mini Pies
Seasonal items
Cookies
Cinnamon Crisps ~ A flat large round cookie $1.40
Nougat Rings ~ With whole baked hazelnuts $1.40
Nuss Ecken ~ Almond triangles $2.25
Nougat Taler ~ Nougat coins $1.40
Florentina Lace ~ Thin and crispy almond cookie $1.00
Chocolate Chip
Oatmeal Raisin
Peanut Butter
Peanut Butter Chocolate Chunk
Espresso Chocolate Chip
Chocolate Chunk
Walnut Bars
Ginger Snaps
Wedding Cookies ~ a box of 12 $4.25
Coconut Macaroons ~ dipped in milk chocolate $1.40
Brats ~ Frozen Links to take home & prepare $2.75
Menu and prices subject to change